Careers Portal Live hosted a webinar speaking to Sharon Mashau from Wits and she answered all your questions. Things such as scholarship and bursary options, how to apply, study options, residency, first year support, application open dates, and much more were discussed.
The University of Witwaterstrand (Wits University) is located in Johannesburg. They offer a range of degrees, diplomas and short courses as well as online and part time courses. Wits University is said to have produced more millionaires than any other university in South Africa.
Why Should I Choose Wits?
It was found that 97% of WIts graduates obtained employment within a period of six months after graduating. 
Wits is one of the top 2 Universities in South Africa and has had their Faculty of Humanities voted as #1 in Africa. A qualification obtained at Wits is recognised globally and as a Wits graduate, you will be able to compete worldwide. 
At Wits, they are mastering the frontiers of science and are adapting well to the fourth Industrial Revolution. They have made many digital resources available students and these resources are even interactive. 
Which Faculties Are At Wits?
Commerce, Law and Management
Engineering and the Built Environment
Health Sciences
Humanities
Science
Each faculty has their own APS requirements. Watch the webinar below for more information on this. 
What Should I Know About Applying At Wits?
Space is limited and students who are planning on studying at Wits are therefore urged not to delay their applications and to do it on time. Some programme applications are closing very soon and you should therefore not waste any time. 
When you apply, you are allowed to apply for 3 programmes. 
You must have your grade 11 results available. 
Due to Covid-19, Wits does not require students to take the National Benchmark Test (NBT) as part of admission for the 2021 intake. 
How Do I Apply?
Pay attention to closing dates
Choose your programme and make sure to refer to the minimum admission requirements
Upload the supporting documents
Pay the application fee of R100
Submit your application
Access the self-service portal to track your application
When Do Applications Close?
Applications for the following programmes close on 30 June:
All Health Sciences programmes
Architecture
Audiology
Film and Television
Speech Language Pathology
All other programmes applications as well as residence applications close on 30 September. 
How Do I Get Accepted At Wits?
Your acceptance at Wits is dependent on your NSC admission scores. With this, Wits has developed an Admission Point Score system.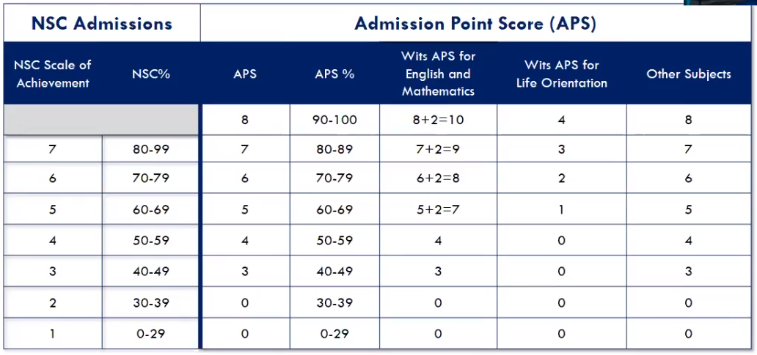 APS% between 0 and 39 are not counted. Wits starts counting from scores of 40 until 100, which is Level 3 until 8. 
Wits does take students who took Technical Maths and Science. The University also counts Life Orientation as part of the APS. However, it's only counted should you have scored 60% or above. 
How Do I Pay For My Fees?
Self-funding
Parent, guardian or religious groups
Bank loans
NSFAS

For students with a household income R350,000 or less annually
Apply on nsfas.org.za
Applications open on 1 August

Wits offers scholarships and bursaries to students based on academic merit

Equality scholarship
Sports scholarship
National Olympiad winners scholarship
Foreign results scholarship
University entrance scholarship
Vice-Chancellor's scholarship 
Does Wits Offer Residences To Students?
Wits has 17 residences that are safe and secure. One in five Wits students are on residence.
Residences at Wits have catering and cleaning services available as well as access to computers and WiFi. 
What Student Support Options Are There?
Wits offers many student support options for students to balance their academic life and their social life as well as their student experience as a whole. This includes their Counselling and Career Development Unit, Student Representative Council, Development and Leadership Unit, First Year Experience, Wits' Citizenship and Community Outreach programmes, Campus Health and Wellness and a Disability Rights unit.
Wits also has many sports options available as well as various clubs and societies.
Should you have any further questions on studying at Wits, you can ask your questions here. 
Read our other articles related to Wits Applications:
Wits Applications For 2021 Are Open
Here's Where To Live As A Wits Student