Detailed question
I have applied for a bursary from Nsfas so that I can study. How do I check the status of my application to see if it has been approved or not?
Answer
Answer:
Have you submitted your NSFAS application and you now wondering how to use myNSFAS to track your NSFAS online application? We have the information you need to keep up to date with your NSFAS status.
NSFAS funding has become a very important tool for poor and working class South Africans to gain access to further and higher education. It stands for the National Student Financial Aid Scheme and they currently send out more than R46 billion in financial aid. The NSFAS funding process is fairly simple.
NSFAS applications have grown dramatically in recent years. That's no surprise because the NSFAS bursary has expanded to cover registration and tuition fees. It can also in many cases cover accommodation. The National Student Financial Aid Scheme is by far the largest bursary scheme in the country. The N+1 rule means that even if you don't pass one year and end up taking a year longer to finish your degree, you will still be funded by NSFAS.
The financial assistance provided by NSFAS has helped millions of students obtain their tertiary education qualifications. Although there are sometimes complaints about the National Student Financial Aid Scheme, the majority of students who are funded by them do not have any problems.
A recent article on NSFAS financial assistance reported that over 60% of university students and 90% of students at TVET Colleges are funded by a NSFAS bursary. And the first step is a make a NSFAS online application. The NSFAS application system works from the MyNSFAS student portal.
NSFAS Login
If you have applied for NSFAS funding you will want to check on your NSFAS application status to make sure that they have all of your supporting documents. NSFAS applications have to be completed before the closing date via the NSFAS portal to qualify for the NSFAS allowance and tuition payments.
You need to login to your NSFAS account to check your NSFAS funding process and check the status of your NSFAS application. Checking NSFAS status is very important.
n order to access your NSFAS application status on myNSFAS, the NSFAS website. This
Login on the myNSFAS student portal. This will be your main NSFAS login point.

Enter your username and password on the NSFAS website and then click SIGN IN!

Click on Track Funding Progress to check NSFAS application status.
NSFAS Status Check
Once you have followed these three easy steps, you will be able to see whether you are have NSFAS funding or not from a NSFAS status check on the NSFAS website.
It may take some time for your application to be successful so please be patient when you check your NSFAS status. You might also need to check your NSFAS application status a number of times.
Status Check NSFAS
Remember that your NSFAS funding application and your application to study at university or college are both different. So make sure you are also concentrating on your study application and provide all the information that they need to complete the application. You have to check your Nsfas application status, but also your study application.
If you need to stay in res you must also make that application in good time. So you need to keep an eye on your NSFAS application status, but also your academic status.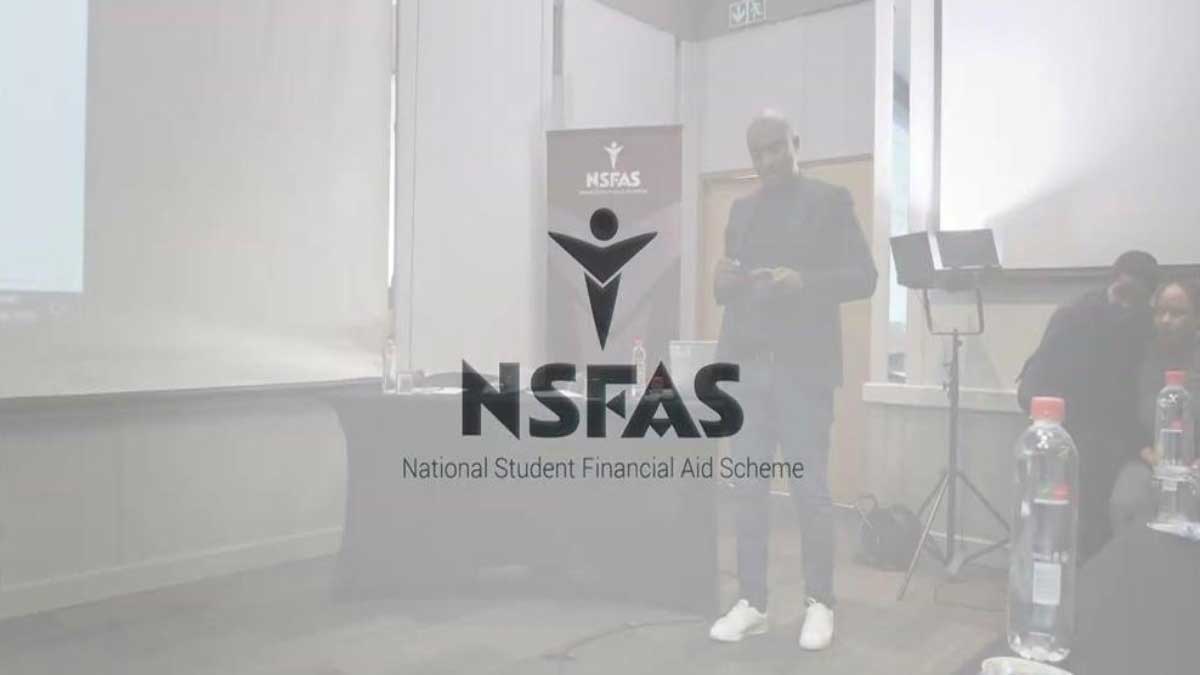 NSFAS Application status
Understanding what you're reading when you need to be checking NSFAS application status is very import, as detailed above under 'status check NSFAS'.
There are many different NSFAS application status codes that are used and they have specific names. You will often see them on the NSFAS website.  Here's what your NSFAS application status means.
Application Submitted: 

This status message means that your application has been loaded on to the NSFAS system successfully.

Filtering: 

The system checks if you are a returning student and whether you have any previous qualifications. NSFAS will only fund you for your first qualification so if they find out that you have a qualification already you won't be able to get funding from them.

Validation: 

You will see that status message on the NSFAS website when NSFAS is conducting third party checks with SASSA and the Department of Home Affairs. They have to confirm if you are a SASSA beneficiary as this will help your bursary application.

If you have any problems with your ID number registration at Home Affairs it is best to correct that in good time before starting your NSFAS online application form.

Evaluation: 

If you see this on the NSFAS website it means that NSFAS is verifying all the documents you have submitted during your application.

Funding Eligibility: 

NSFAS is verifying your household financial status that was declared in your application. At the moment to qualify for NSFAS funding you must come from a household where the annual income is not more than R350,000 from either one or both of your parents.

If you as the applicant are living with a disability the annual household financial earning can be as high as R600,000.

Awaiting Academic Results/Admission: 

NSFAS is checking your academic results and your institution admission status to ensure that you meet the requirements to be funded by NSFAS.

Many find themselves to stay on this step for a while. This is because NSFAS has to wait for information from your chosen institution.

Awaiting Registration: 

NSFAS is receiving data from your institution to enable them to create a bursary agreement. This is another step students find themselves on for a while. This is because NSFAS has to wait for information from your chosen institution.

Signing Of Agreement: 

At this stage, you need to sign your bursary agreement so that NSFAS can disburse your allowances.

Payments: 

Your allowances are now being paid either through NSFAS mobile wallet system or through your institution. Students are advised to continue to monitor the myNSFAS portal for updates.
Track Funding Progress
It is very important to track the progress of your application for funding using the NSFAS status checking tools. You need to make sure your application doesn't fall through the cracks.
As NSFAS is dealing with so many applications each year it does happen in a small percentage of applications that there are problems and admin errors. You don't want that to be you!
If you do a Nsfas status check and then find out that there is a problem with your application, you can submit a Nsfas appeal. This explains why a NSFAS status check is so important.
How To Submit A NSFAS Appeal
Log into your "MyNSFAS" account on the NSFAS website Click the 'Track Funding Progress' option
Check the application progress tabs
If your application status reflects an unsuccessful message, you may submit an appeal by clicking on the 'Submit Appeal Tab'
Once you are on the 'Application Appeal' page, you can see the reason for your unsuccessful application status
You are then able to choose the appeal reason
Then upload certified required documents to support your reason
Then click 'Submit Appeal'
You may now track the progress of the appeal on your myNSFAS account. 
Make sure that you meet the eligibility criteria and that you have uploaded all the supporting documents before applying or submitting your appeal.
Eligibility Criteria For NSFAS Funding
A combined household income of less than R350,000 per annum

Have met the admission criteria for the institution you have applied at

Acceptance to study at a registered South African university, public college or TVET college

Be a South African citizen

Sassa grant recipients immediately qualify for NSFAS funding

If you are a student with a disability, your household income may not exceed R600,000 per annum

If you are a continuing student then you will need to meet the necessary academic requirements for continued funding
NSFAS identifies eligible students through the means test.
Household financial status
It is important to remember that the current rule for NSFAS is that you only qualify if the family you come from has a combined household income of no more than R350,000.
However if you as the applicant are living with a disability there is additional support for you with a more generous household income threshold.
In your case the annual financial income can be as high as R600,000 and you will still qualify for NSFAS.
What does NSFAS cover? Is it just tuition fees?
NSFAS applicants should know that as well as their tuition fees the NSFAS bursary will also help them cover their accommodation costs.
There are additional rules about who qualifies for financial assistance for their accommodation. This is usually determined by how far you live from the varsity or college you will be attending.
You will specify with you NSFAS application status where you live so they will know how far you are from the campus where you still study.
Depending on whether you are a TVET College or varsity student there are also different rules about the living allowance you will receive with your NSFAS bursary. This is because TVET Colleges normally provide text books for their students - while universities require students to purchase their own text books.
How Are Allowances Paid To Students 
Allowances are paid to students through the NSFAS bank account. Students must register with the service provider allocated to their institution to access their NSFAS bank account and receive their NSFAS bank card.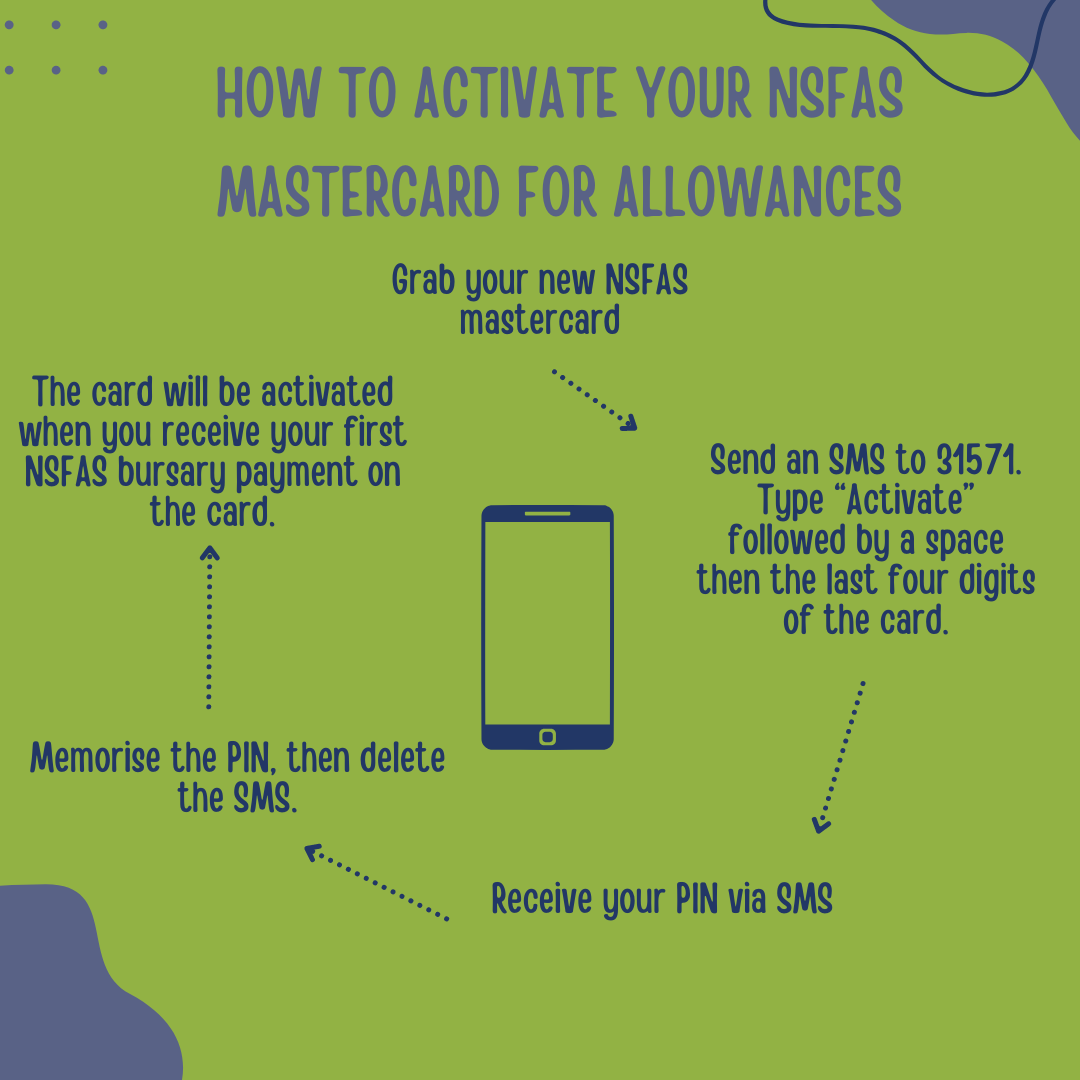 Which Service Provider Must Students Register With
Tenet Technologies
Tenet Technologies will provide services to students at the Cape Peninsula University Of Technology, University Of KwaZulu Natal, University of Venda, University of Pretoria, University of Witwatersrand and Walter Sisulu University. 
Coinvest
Students attending Rhodes University, Sefako Makgatho Health Science University, Stellenbosch University,  University of Cape Town,  University of Mpumalanga and University of South Africa must register with Coinvest. 
Norraco
Norraco has been tasked with paying allowances directly to students enrolled at theCentral University Of Technology, Mangosuthu University Of Technology, Nelson Mandela University, North West University, University Of Fort Hare, University Of Johannesburg And University Of Western Cape. 
Ezaga
Ezaga will distribute allowances to students registered at Durban University Of Technology, Tshwane University Of Technology University Of Free State University Of Limpopo University Of Zululand and the Vaal University Of Technology. 
History of NSFAS
NSFAS is a South African government-funded organisation that provides financial aid to eligible students who cannot afford tertiary education.
Its goal is to promote access to higher education for students from disadvantaged backgrounds, with the aim of creating a more equal society. A NSFAS application has been the start of many young people vastly improving their prospects.
Since its establishment in 1991, NSFAS has assisted countless students in pursuing their dreams of higher education, and continues to play an important role in providing financial assistance and supporting education in South Africa.
The organisation was originally called the Tertiary Education Fund of South Africa but this was changed in 1999 to the National Student Financial Aid Scheme. The financial aid available has increased from about R700m when it started to over R6 billion in 2022.
This increased funding to support the ANC government's pledge of fee-free education for poor South Africans has meant that over 700,000 students were funded in the last year.
NSFAS is available to fund students for their first qualification after Matric.
Do NSFAS Fund Postgraduate Studies?
As of the 2021 academic year, NSFAS announced they would no longer provide funding for postgraduate courses. This includes postgraduate certificates, postgraduate diplomas, honours degrees, masters and PhD degrees.
If you want to go on to do a postgraduate qualification you will need to look to other sources of funding. The National Research Foundation or the NRF is the most common funder of second, third and later qualifications.
We hope you have found this article about how to check on your NSFAS status helpful. If you need to appeal when you are declined then you should read our article:
How to Check Your NSFAS Appeal Status
NSFAS Contact Details
NSFAS is the National Student Financial Aid Scheme which is a government bursary fund for students through the NSFAS funding. We have the NSFAS contact details for you.  
NSFAS application and registration opens in the later part of the year for eligible students with the NSFAS closing date usually being in the next calendar year.
NSFAS gives bursaries to students from poor and working class backgrounds which goes beyond just paying for your fees. They'll also pay for your registration, accommodation, transport, books through NSFAS allowances.
Cape Town City Centre
The physical address of the NSFAS head office and contact centre is in the Cape town City centre. However applicants or returning students don't have to attend the centre in person. You can register an account on the MyNsfas website - just make sure you remember your Nsfas login details.
NSFAS Email Address and Other NSFAS Contact Details
Applicants or returning students can contact NSFAS via the contact center Toll free number 08000 67327 on Monday – Friday from 8:00 am to 17:00.
You can also contact them via their email address [email protected].
These are the details you need for NSFAS wallet enquiries.
FAQs About NSFAS
1. Can I apply for NSFAS if I'm already a university student? Yes, students already enrolled at a university or TVET college can apply for NSFAS funding, provided they meet the qualifying criteria.
2. Does NSFAS fund postgraduate studies? NSFAS funding is typically for undergraduate courses. Some postgraduate qualifications, like PGCE (Postgraduate Certificate in Education), may be funded based on the availability of funds and the field of study.
3. What happens if I fail some modules, will NSFAS continue to fund me? NSFAS may continue to fund you, but it depends on the NSFAS policy at the time. Typically, you need to pass a certain percentage of your modules to continue receiving funding.
4. When do I need to reapply for NSFAS? Students need to reapply for NSFAS each academic year within the specified application period.
5. Can NSFAS fund me if I'm studying part-time? Part-time students at universities are not typically funded by NSFAS. However, some part-time students at TVET colleges may be eligible for NSFAS funding, subject to meeting other qualifying criteria.
6. What does NSFAS funding cover? NSFAS provides coverage for a range of student necessities, including tuition fees, accommodation, meals, transport, and learning materials.
7. Is NSFAS a loan or a bursary? Since 2018, NSFAS has been converted into a bursary scheme for qualifying students, which means it does not need to be repaid. Prior to that, it functioned as a loan system.